How to choose cut resistant gloves: levels explained. There are different standards for determining the cut level of a glove or how the material resists cut. The levels show the grams of cutting load a glove
Cut-resistant gloves levels chart
It is really important to chose the right cut resistant glove because our hands are the most important tool in our work. It can be difficult to discern and it will be necessary to know very well the standards, functions and materials in t he market.
When choosing the cut resistant gloves, take into account that there are different cut levels according the EN388:2016.
Before this standard, all gloves were certified according the EN388:2003 and according this standard, the glove shows 4 numbers with the EN388: Abrasion resistance, Cut resistance, Tear resistance and Puncture resistance:
388 Mechanical Ratings:
Number
Rating
Level 0
Level 1
Level 2
Level 3
Level 4
Level 5
1
Abrasion Resistance (Cycles)
< 100
≥ 100
≥ 500
≥ 2000
≥ 8000
–
2
Cut Resistance (Cycles)
< 1.2
≥ 1.2
≥ 2.5
≥ 5.0
≥ 10.0
≥ 20.0
3
Tear Resistance (Newtons)
< 10
≥ 10
≥ 25
≥ 50
≥ 75
–
4
Puncture Resistance
< 20
≥ 20
≥ 60
≥ 100
≥ 150
–
EN388: mechanical resistance
With the updating to the EN388:2016, the gloves should be marked with the old values (Abrasion, Cut, Tear and Puncture), but they should add a new value: a letter A, B, C, D, E or F, that indicates the new cut level. Below you can check these levels:
EN 388-2016 Cut Index Performance Levels (Coup Test)
| | | | | | |
| --- | --- | --- | --- | --- | --- |
| Performance Level | 1 | 2 | 3 | 4 | 5 |
| Cut Index | 1.2 – 2.4 | 2.5 – 4.9 | 5.0 – 9.9 | 10.0 – 19.9 | ≥ 20 |
EN388-2016 Cut index performance levels (Coup Test)
EN 388-2016 / ISO 13997 Cut Resistant Levels in Newtons and Grams (TDM Test)
| | | | | | | |
| --- | --- | --- | --- | --- | --- | --- |
| | Level A | Level B | Level C | Level D | Level E | Level F |
| Newtons | 2 | 5 | 10 | 15 | 22 | 30 |
| Grams | 204 | 509 | 1020 | 1530 | 2243 | 3059 |
EN388 levels according the ISO 13997
What level of cut-resistant gloves do We need?
If you are going to work in heavy construction, mining, ironworking, rescue, rigging or high risks fo cuts or lacerations, then chose a glove from E to F level: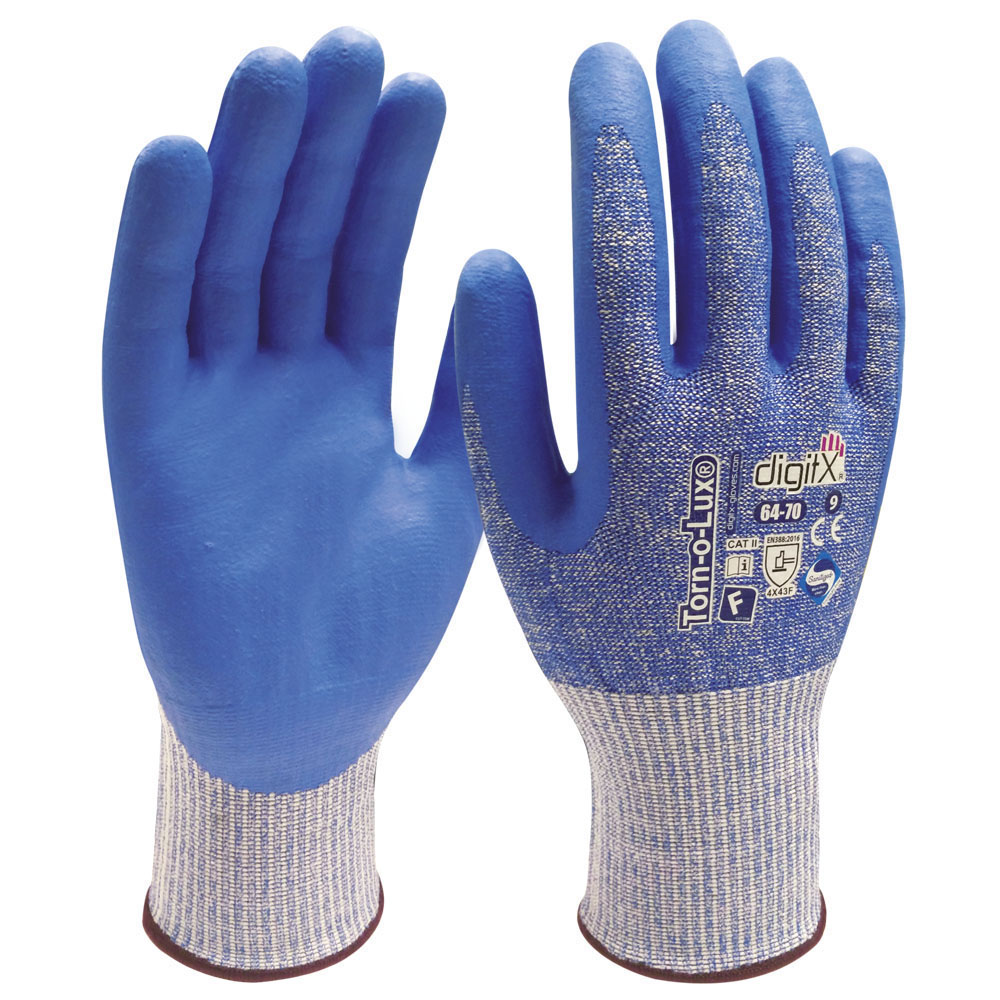 64-70 level F glove
The hightest ISO 13997 cut level F and ANSI CUT A8 glove.
Advanced yarns technology providing the highest cut protection but still soft, flexible and comfortable.
Ideal for heavy duty work and critical cut/blade hazards.
Foam nitrile coating provides great grip.
For home maintenance works, recycling plants, salvage yards or others, we recommend a cut level from C to E, with a good cut resistance but also with good dexterity: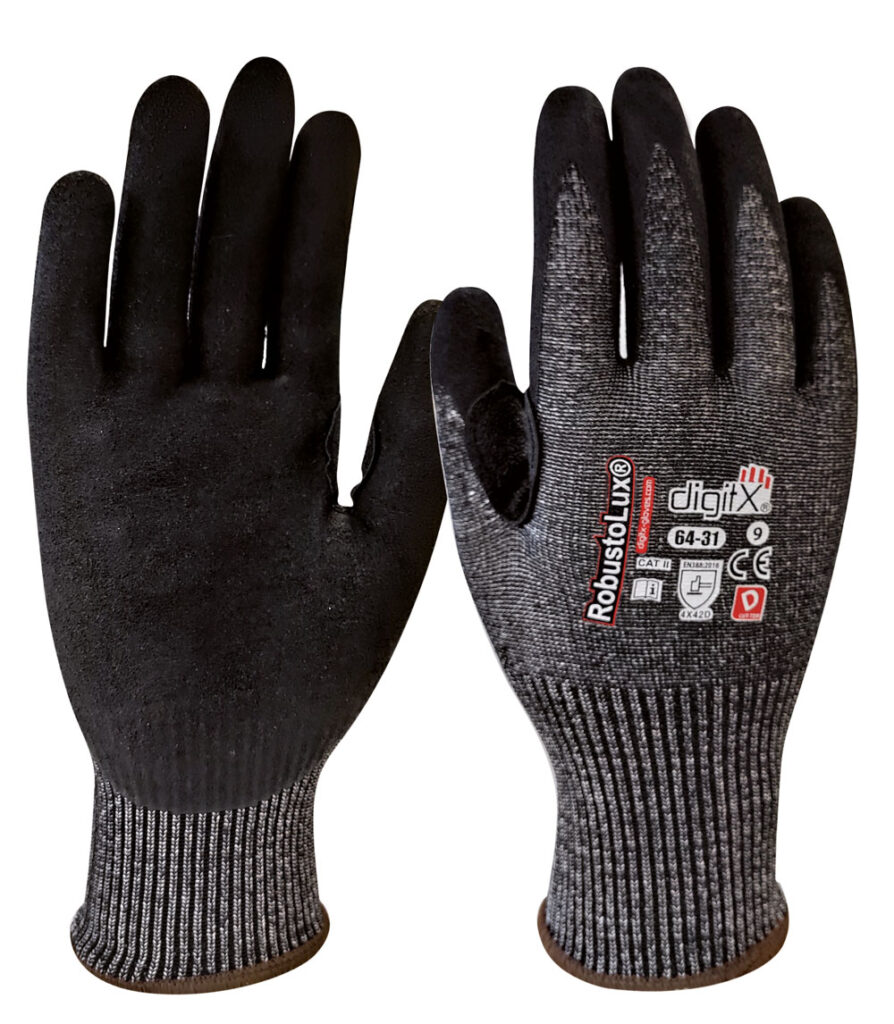 64-31 level D glove
Cut protection glove.
High Tech granulated micro foam nitrile coated glove.
Fully nitrile sandy double coating provides superior grip in dry, wet and oily conditions.
Excellent cut protection: level D.
Special seamless knit ultrahigh molecular weigth polyethylene and glass fiber shell offers increased comfort, finger dexterity and breathability.
It combines cut protection with oil grip, excellent dexterity, sensitivity and tactility.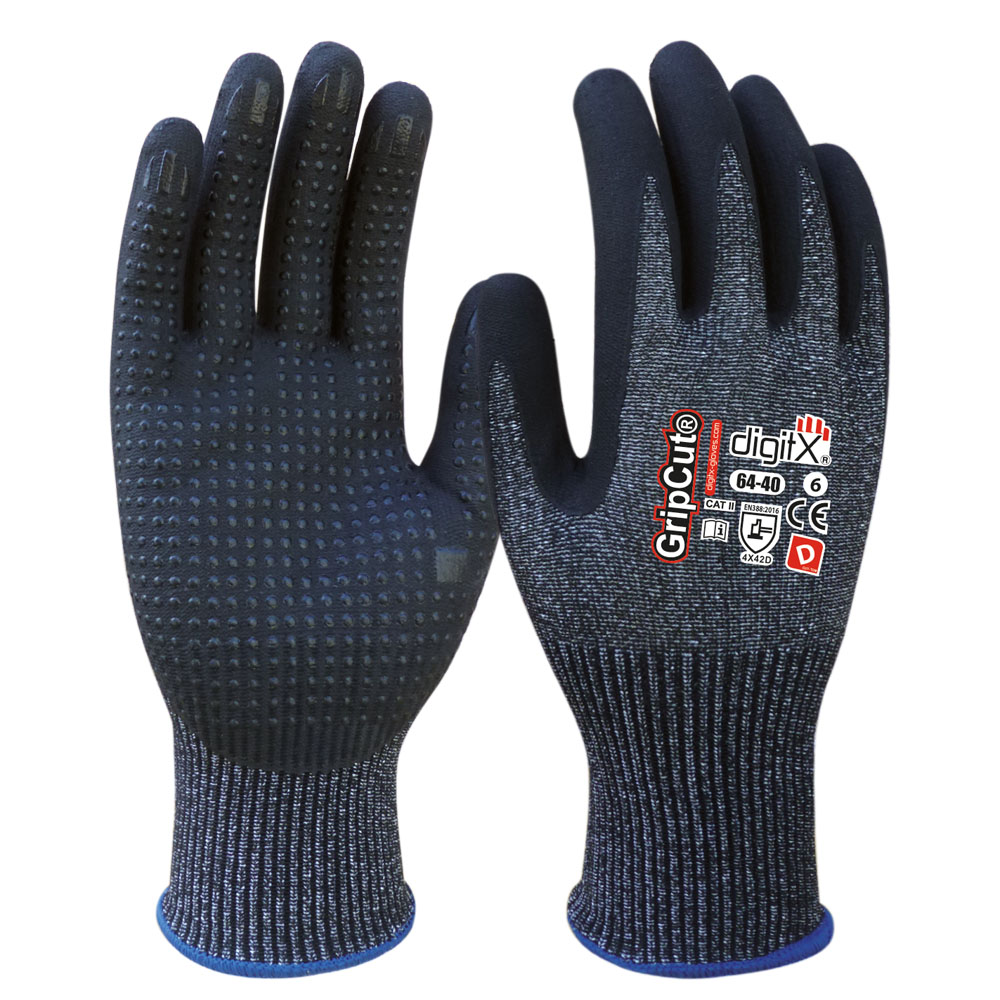 64-40 level D glove
13G UHMWPE/glass fiber/polyester/spandex with micro foam nitrile coating dots on the palm.
The dots increase grip, reducing hand fatigue and increasing comfort.
GripCut® incorporates micro dots to increase durability and additional grip, without the loss of dexterity.
An elastic cuff ensures a secure fit, preventing dirt and debris from entering the glove.
Excellent mechanical resistances (4X42D).

For glass, some types of sheet metal works, food industry or catering, we can consider a less cut protection, because the cut risk is low. Then, you can chose a Type A or B glove: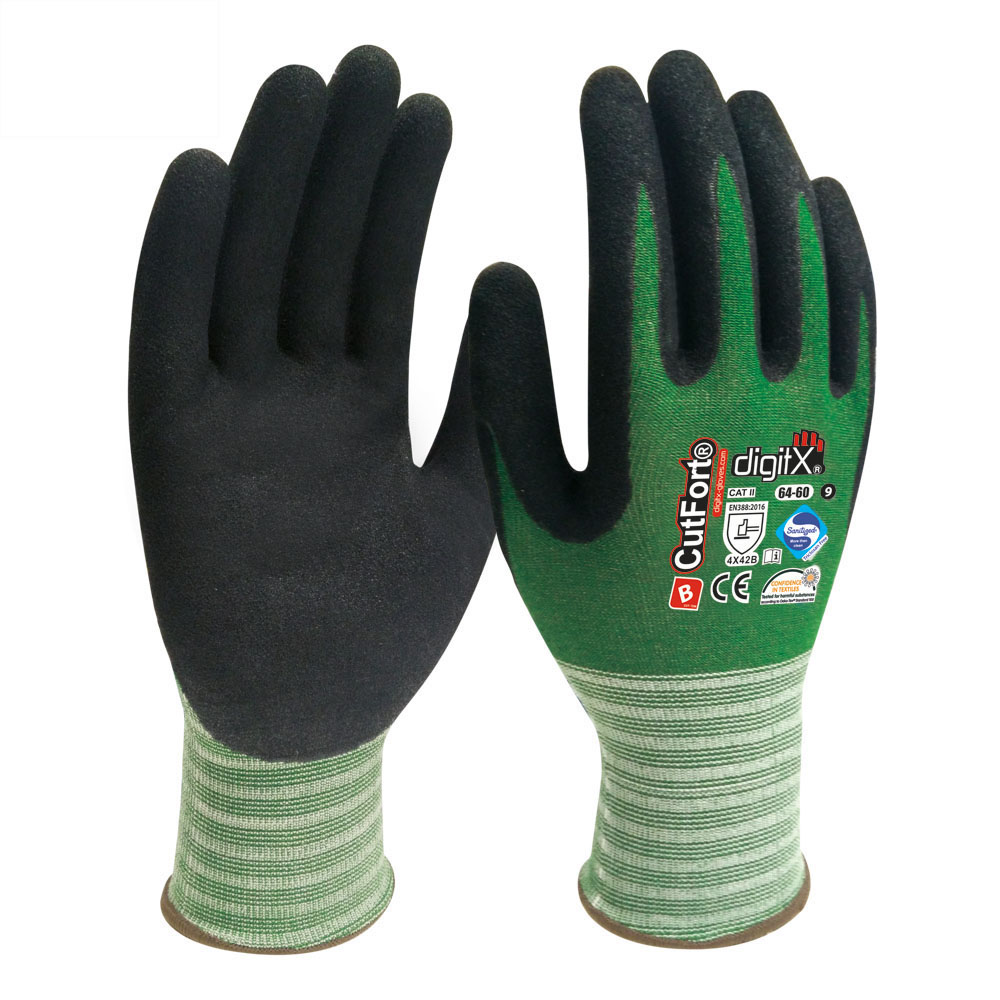 64-60 Level B glove
Cut protection 18G UHMWPE nylon liner, nitrile palm coated.
18G exclusive lining technology contributing it the thinnest and finest cut B nitrile glove.
Over 30% lighter than a standard cut B ntirile glove.
Perfect dexterity, flexibility, super comfort and very good fitting.
Unrivaled dexterity, sensitivity and tactility, combining a long-life glove, reaching a maximum
dexterity level (level 5), absolut and maximum abrasion resistance keeping the maximum touch,
as our second skin.

Which is the lifetime of a cut-resistant glove?
It is difficult to give an answer without knowing the use. Maybe it could be one only day, and other times it could be two weeks or one month. Check your gloves before each use and replace them if you see something wrong. Service life can not be specied and depends on the application and frequency of use. It is the the responsibility of user to ascertain suitability of the glove for its intended use. The design performance can not be signicantly aect by aging when stored in appropriate conditions.
Please check the hazards of your work and check the cut resistant levels. A level A or B offers a moderate protection against straight blades, and a level F is the best in class, designed for extreme cut risk threats.
We propose our 64-70 TornoLux, the best in class becuase it got the highest cut level in the testing (LEVEL F), and moreover it was certified also for thermal risks, getting the EN407 with a cold resistance of 100ºC to heat contact:
Get a sample free!